More Time for Managers
About PLU
Our values - Quality, reliability, trust, professionalism, and flexibility - are what we bring to our customers.
Specialized knowledge of the latest tools and techniques makes us a trendsetter and expert in top assistance, top executives, and high-speed offices.
PLU Top Assistant GmbH provides certified Top Assistants for entrepreneurs and top managers, and in a structured process, takes care of the search, evaluation, and hiring of Top Assistant personnel for companies.
PLU Campus GmbH offers individual office coaching, seminars (open and in-house), as well as lectures and webinars to help managers, assistants, and project teams achieve time gains. Our efficiency experts optimize all work and organizational processes in daily and project operations.
Our experts come from our in-house talent forge for Top Assistants. In our talent forge, talents are discovered, nurtured, developed into managers by managers, and prepared for the modern secretary.
In every Top Assistant, there is a manager. Christine Walker and her team live by that principle.
High achievements take place in the framework of high expectations.

The Short Story of PLU
Christine Walker | Founder
Christine Walker is now an entrepreneur, board member, author, speaker, and business coach.
In 2004, she started as one of the first "mobile assistants" (yes, indeed, "New Work" was already possible in 2004!) as a PMO assistant on an international major project at a leading management consulting firm. That was the beginning of her successful career. Today, her company is the market leader in top assistant services.

The company operates globally and is an expert and pioneer in #new_work.
#modern #efficient #agile #anytime #anywhere #around_the_globe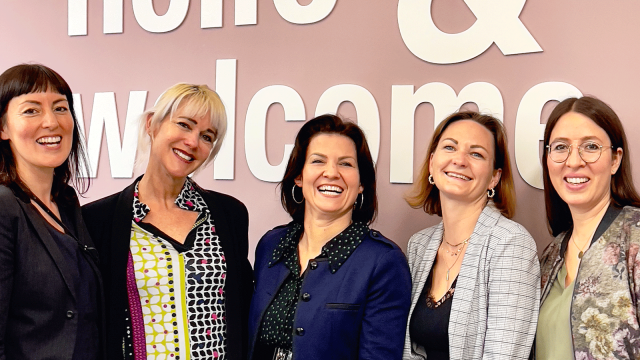 2023

Establishment of the first global Top Assistant Network #TAIN. Global placement (HIRE) of (virtual) Top Assistants, as well as training and coaching on hybrid work (Microsoft 365, New Work & Co.), and extensive M365 training projects with company-wide rollouts.
2022

Christine Walker becomes a member of the supervisory board at IF Blueprint AG for the field of corporate culture & organization.
2021

Paul Große becomes a managing director as a proxy and takes over the Finance, IT & Controlling department.
2020

The pandemic also affects PLU. Restructuring, digitalization, a smaller team in the (virtual, global) back office with significant efficiency improvement, Kristin Lassak joins as the HR manager in the internal team.
2019

Interim assignments across Europe, establishment of the global virtual assistant team (Outer Space Support), introduction of Sugar! for modern, agile candidate management.
2018

The first business rap creates press coverage and attention, followed by major orders in the field of efficiency coaching with company-wide rollouts. Expansion of the management team with Paul Große.
2017

The book "Freie Tage für die Chefetage" (Free Days for the Management) is published, followed by numerous press and talk show appearances. Relocation to Landsberger Straße due to growth. Awarded the Innovation Award 2017.
2016

Consolidation of business areas into PLU Top Assistant GmbH (RENT&HIRE) and PLU Campus GmbH (Training&Coaching). Susanna Castillo appointed as managing director of the GmbH. Manuela Kiesling becomes a proxy and IHK-certified training manager.
2015

PLU moves to the cloud! Introduction of Office365, Scrum, Vuca & Co.
2013

Establishment of keynote speaking and infotainment on efficient collaboration and communication. Membership in the Top 100

Excellent Entrepreneurs, certified speaker, and completion of the Lee Strasberg Institute program in NYC.
2012

Establishment of PLU Consulting GmbH and introduction of the highly specialized Winning Coaching Methodology to achieve over 20% management capacity in companies. The team grows to 50 permanent employees.
2011

Establishment of PLU Search & Placement GmbH.
2010

Expansion with additional locations in Frankfurt, Düsseldorf, Berlin, and Hamburg, as well as the expansion of the permanent team to 20 employees. Establishment of the PLU Talent Forge (led by Sophie Dunkel, 2009-2019, HR manager and later managing director) and introduction of the competence development system. Top assistants emerge from our raw diamonds within weeks – see customer testimonials.
2009

Establishment of PLU Academy GmbH, ISO certification, framework agreement as a preferred provider for PMO services with a leading consulting firm in Kronberg. Introduction of the performance diagnostics system for the development of assistants and efficiency improvement in the back office.
2009

The pioneer team, now the management team, joins – Susanna Castillo, Manuela Kiesling, Isabel Becker-Umbeer, Marianne Jörg.
2008

Opening of the office in Maximilianstraße, Munich, and the first permanent employees come on board.
2007

Transformation of the sole proprietorship into PLU GmbH due to rapid growth. Acquisition of the AÜ license. Stephan Schulz supports (2007-2015) as a co-founder and advisor in building financial and personnel structures and introducing the competence development system.
2006

Ten more mobile assistants are deployed through PLU as PMO assistants for international major projects. Establishment of a pool of over 100 freelance assistants.
2004

Christine Walker establishes the sole proprietorship | PLU | and starts as one woman show.